Kevin James Weight Loss: Diet, Before & After [2021]
Brief Biography of Kevin James
Kevin James is a famous actor and comedian, best known for his starring role as "Doug Heffernan" in the series, "King of Queens", which ran on CBS, from 1998 to 2007, for a total of nine seasons.
Born in 1965, in Long Island, New York, Kevin spent his childhood in Stony Brook. Growing up he witnessed his parent's diligent work ethic. His father owned his own insurance agency and his mother worked in a chiropractic office.
Kevin graduated from Ward Melville High School and pursued his education further attending SUNY college. During his university days, he excelled as a tailback on the football team and majored in sports management.
It was during this time that Kevin began to discover his interest in comedy and acting. Out of college, Kevin landed his breakout role in the hit show "King of Queens", launching his acting into success.
Kevin James' Weight Loss Journey
In college, Kevin James was very fit and active on the football team. He weighed 150 pounds during his years in university. In an interview with Pete Hammon on "The Actor's Side", Kevin describes his love for sports and his desire to become a professional athlete.
He explains in the interview how his dream to pursue an athletic career changed, "I think the dream died, division 3 football, just not going, there were guys playing a lot better than I was so I was like, I gotta find something else to do."
After taking a public speaking course in college and getting a few laughs out of his classmates, Kevin went back home, and inspired by his brother's involvement in stand-up and improv, he decided to take the plunge into the world of comedy.
James' career shift from the field of athletics, to comedy and acting, played a major role in his weight gain. From his college weight of 150 pounds to his nearly 300-pound on-screen weight, Kevin had experienced a dramatic increase in weight.
Full Story: How Kevin James Lost Weight
In an interview with Dave Letterman, Kevin James revealed the final breaking point in his life when he realized he needed to make a change and lose weight. "I hit my all-time high, I got on the scale and it read 290 pounds, not good at all, I realized I'm only 10 pounds away from 300, I got to 302! Now I'm down about 60 pounds."
When the crowd started applauding his weight loss he told them "No, no, give me a week in Chinatown; I'll swell up like a tick."
When asked about how he has lost weight, Kevin divulged some of his other weight-loss strategies including, running up to 6 miles per day and eating a low-carb diet.
Kevin James Weight Loss For The Film Here Comes The Boom
In an interview with Carly Aplin from The CW, Kevin dishes exactly how he lost weight for the movie Here Comes The Boom.
"I got in shape for this one, it was 14 months out from the film and we started changing my diet, and I've since changed back, as you can see; (pointing out his obvious weight gain since the release of the movie). We worked out really hard, I trained with all the real UFC guys, worked out, sparring, fighting, and lifting."
Exactly How Much Weight Did Kevin James Lose?
Kevin James dropped 80 pounds for his role in the hit movie "Here Comes The Boom". Kevin used a combination of dietary changes and intense UFC fighter exercises to shed 80 pounds and get in shape for the film in which he plays a fighter.
Kevin James Before & After His Weight Loss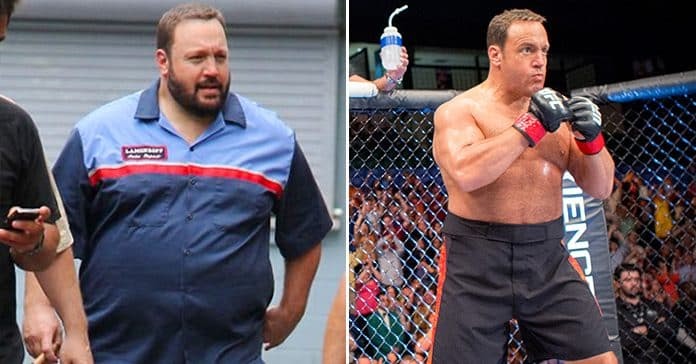 In a recent interview with Jimmy Falon, Kevin James chatted about life during quarantine and how he decided to utilize that downtime to focus on his health and weight. "Now I have time, I'm going to focus on getting in shape and losing weight". Kevin candidly admitted that after only one week into his quarantine weight loss plan, he got off track.
Instead of losing weight like he had set out to do, he actually ended up gaining 22 pounds! While for most people this would be a major disappointment, true to Kevin James style, he keeps things lighthearted and is able to bring a comedic touch to the experience, laughing with Jimmy about the weight gain, and "blaming" his co-workers and social media managers for ordering pizza every day during their quarantine.
Kevin James' weight has fluctuated over the years. He has gained pounds; shed them, back and forth throughout his adult life. He has lost weight out of both necessity to play certain roles, as well as personal reasons for his health and family. He has stated previously that he's wanted to get in shape and lose weight for his wife, Steffiana De La Cruz, and his four children, Sienna-Marie, Shea, Kannon, and Sistine.
Currently, in his 50's, Kevin James now weighs 235 pounds. Though he endeavors to lose weight and improve himself in all areas of life, Kevin admits that weight loss continues to be a struggle for him and is something that he has managed to achieve, but finds difficult to maintain and stick with.
How Much Is Kevin James Worth?
Kevin James' net worth, currently in 2021, sits at over 100 million dollars. The Primetime Emmy-nominated star of "King of Queens," the CBS sitcom, just purchased an oceanfront home in Delray Beach, Flordia, worth over 14 million dollars.
He has made millions working as an actor, but he has also been tremendously successful as a stand-up comedian, screenwriter, and producer.
Kevin became a household name playing the part of, Doug Heffernan, on the CBS sitcom "The King of Queens". He was getting paid $300,000 per episode during the filming of the show. His contract for the final season bumped his compensation up to $400,000 per episode.
He owned a percentage of the sitcom and was an Executive Producer of the show, making around $50 million on syndication deals to date.